Royal Enfield's Legac
y
Well, there is a new beast in town from the stable of Royal Enfield. Its called the Royal Enfield Continental GT or as some people say the Cafe` Racer.
The Cafe Racer name came into existence from Ace Cafe London,where bikers used to hangout in the 50's & 60's and race their bikes from one cafe to the other. Many things have changed in the past 5 decades but the youths' enthusiasm towards bikes and the outlaw feel that one gets hasn't diminished,rather it has amplified many folds.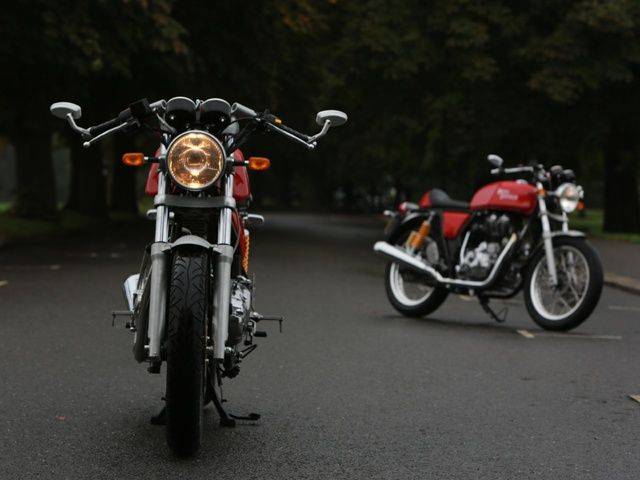 Things to look ahead to...
The first things that u notice about this mean machine is that it is completely different from what Royal Enfield is known for,yet preserving the company's retro look and feel.

Some of the amazing features of this bike are as follows:
Oil lock - The swanky oil lock which you flip open to reveal the key hole.
Pirelli tyres - The first thing that comes to our mind on hearing the word "PIRELLI" is Moto GP.With the help of these 18" tires the dangerous curves have become your new best friend to lean this new LEAN machine.
ECU - It controls the engine operating condition of the bike. It takes into account throttle, air intake and temperature to name a few to ensure that you get the maximum from this massive 535cc fuel injected engine.
Rear view mirrors - Simple stunning rear view mirror configuration has catapulted the appeal of the bike as a whole. These mirrors are included as accessory, which according to me is a must have item to go with the bike.
Riding Experience & Specs
Frankly speaking as of now i didn't get the opportunity to ride it myself but from what I've heard its just an adorable beast which comes in two colors Flaming Red & GT yellow.
Motor has bigger rigs,intake valves,bore,throttle body,lighter flywheel, reprogrammed ECU all aimed to increase performance especially in the higher rev range.

Power hasn't increased drastically, just up by 2 BHP and torque by 4.5kgm.

The bike's top speed is around 130kmph.

No oil leaks or engine stains were observed after prolonged exposure at high speed( 120kmph for 60 minutes ).

The most noticeable thing about this bike is its amazing handling. This feat was achieved by using the dual cradle frame & the chassis is designed by Harris Performance UK. So undoubtedly by far this is the best handling Royal Enfield . :)

The wheel rims are made of

Aluminum alloy to further reduce the overall weight of the bike.
It has also got new set of Paioli shock absorbers.
The moment you mount the Continental GT you get a feel of dominance but if you wish for a pillion seat you have to spend some extra buck.
For detailed specs
click here
.
This Royal Enfield masterpiece costs around 5200 pounds( 5.2 lakh rupees), but fortunately in India it will be launched at around Rs 2 lakh (showroom).
This video depicts what the Continental GT is all about. It shows a band of rockers embark on an epic 11,000 kilometer burn-up. They set out from the birthplace of café racer culture – the Ace Cafe, London and finish at Madras Café, India, close by the Royal Enfield plant in Tamil Nadu where the Continental GT is built. Spanning continents and cultures, this café-to-café ride captures the spirit of pure motorcycling and the exhilaration of getting astride the lightest, fastest, most powerful Royal Enfield motorcycle in production.
Feel free to comment on how the bike stands according to your expectation and give suggestions if any.
Anyway, my next post would be regarding "how the Continental GT could be revamped" till then keep on reading..